Sheila Kelley portrayed Zoe.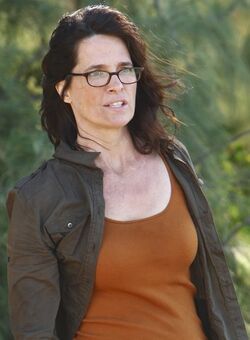 Rittenhouse LOST Archives Character card #23
In addition to her acting roles, Sheila Kelley
is also an exercise guru with her series of videos:
The S Factor - Strip Exercise for Life
While not LOST-related, they ARE fun and effective.
And who knows, maybe Nikki studied the videos
before performing her pole dance in Expose'....
(no comment on why I own the videos)
I have also written to Ms. Kelley, requesting an autograph.
I'll update this post if/when I receive a response.
Zoe is included in Don Pinset's spectacular
LOST Caricature compilation print.
I hope to have my print framed shortly.
It measures 24" x 36" and is just FANTASTIC!
Sheila Kelley signed this 3"x5" card.
It arrived today!