Francois Chau portrayed Dr. Pierre Chang aka Marvin Candle
aka Edmund Halliwax aka Mark Wickmund.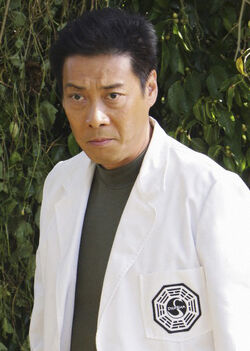 Inkworks LOST Season 2 Autograph card
Inkworks Dharma Inititative Flash Cards
Rittenhouse LOST Seasons 1-5 Autograph card
Rittenhouse LOST Archives Autograph card
Rittenhouse LOST Archives Character card #72
Character card by Paul Burrows/Room23Store
8" x 10" photo signed by Francois Chau
LOST Fan Club Kit II
included a Tshirt featuring Marvin Candle.
The McFarlane Series II Prop Replica from Eko figure
was 2 snippets of Dharma Orientation Film,
encapsulated as slides. One featured the Swan Station
logo and the other Dr. Marvin Candle.
Note: The scratches visible are on the plastic cases the slides
are stored in, and not the slides themselves.
Pierre Chang is included in Don Pinset's spectacular
LOST Caricature compilation print.
I hope to have my print framed shortly.
It measures 24" x 36" and is just FANTASTIC!